Product Details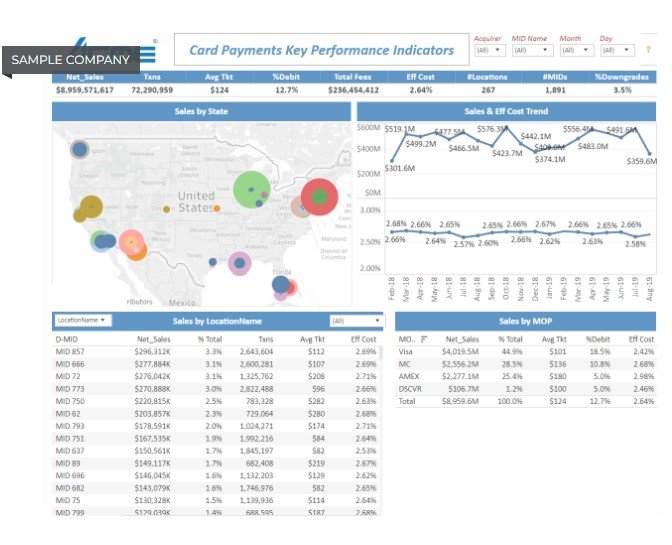 (Click to enlarge image) Monitor KPIs
Quickly get a pulse on KPIs such as effective cost, card sales, downgrade ratio, chargeback ratio, and more. Filter data for any parameter, including time period, MID, region, business unit, chain, brand, card type, etc. Be in the know on your payment health at any time.

Optimize Interchange & Manage Downgrades
Instantly know your interchange qualification and track downgrade ratios, including understanding downgrade reasons. You can see the savings impact in real time from fixing specific downgrades. It's critical to identify and fix downgrades on an ongoing basis since interchange represents about 85% of total credit & debit card processing fees.

Enhance Chargeback Management & Reporting
Consolidate daily chargebacks from all payment vendors and quickly understand key metrics like net chargebacks and win ratios.

Optimize Approval Rates
Track and manage authorization declines by processor, reason code, issuing bank, and merchant-defined MID hierarchy. Trend declines over time to identify anomalies and improvement opportunities, helping you recover lost sales. You can even isolate issues to specific cards, issuers, regions, MCCs, and times.

Obtain key insights about your customers
How would you change your sales and marketing plans if you knew that 32% of your sales from the LA store were from Japanese customers, whereas, 41% of sales in the New York store were from Chinese customers?